JULY
Jeremy Fish
Anger Management
Main Gallery
July 3rd-25th
Jeremy Fish is a prolific illustrator, product designer and fine artist based in San Francisco for the last 20 years. Born in 1974, the artist is known for his unique presence and aesthetic contributions in North Beach, and is recognized by contemporary galleries and museums worldwide for his originality and clever work. He expresses communication and storytelling through an illustrative library of animals, characters and symbols with an emphasis on finding a balance of imagery between all things cute and creepy. The 18 new pieces featured in Anger Management were produced in the 6 months between two brain surgeries undergone by the artist. After an aneurysm was found in his brain last November, Jeremy has focused on avoiding further agitating the artery through reducing his stress levels. These works are a result of visiting with an anger management specialist and rearranging his lifestyle so as not to threaten his health.

My Dog Sighs
You Don't Care About Us
Project Room
July 3rd-25th
My Dog Sighs has inspired countless art lovers with his now infamous Free Art Friday project, which began when the artist left his artwork in public spaces for people to find. In the last ten years of giving away his work for free, My Dog Sighs has gained an incredible international following in the UK, Israel and Japan, plus a strong following on social media. My Dog Sighs is quickly rising in the contemporary art scene, with five sold out shows under his belt to date.
The artist creates pocket-sized paintings on rejected trash items that he found and recycled, and places his finished pieces back into a public environment. The result demonstrates the relationship between pieces of art that evoke poignant and unexpected appreciation in a viewer, and the discarded and abandoned surfaces they are painted on. Painted on used and discarded metal cans, My Dog Sighs' paintings challenge audiences with their vulnerability. Are they hiding behind masks or empowering themselves? Like the surfaces they are painted on, these ladies are hardened by being lost; yet, something in their eyes cry out for attention, acceptance and love. Pinned to rusted frames and expelling the last of their colorful history, the pieces echo the beauty of urban decay. Rather than projecting art of permanence to a large audience like traditional street art, My Dog Sighs' work forms a narrative that resonates with those that have the opportunity to find them. The work engages its audience in the act of discovering and potentially taking an art object for their own, emphasizing the pieces' material through moments of being lost and found. It makes the audience not only a viewer, but also a participant having an intimate moment with the artist's work.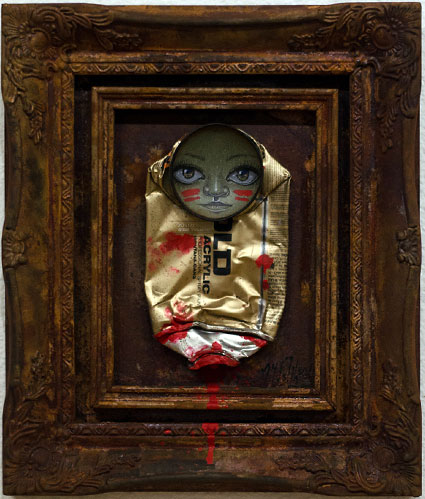 My Dog Sighs
UPCOMING EXHIBITS
AUGUST
Mike Giant
Rocky Mountain High
Main Gallery
—
Alexis Diaz
Project Room
SEPTEMBER
Jaybo Monk
BEAUTYFOOL
Main Gallery
—
Sergio Garcia
Project Room
—
John Felix Arnold III
Project Room
OCTOBER
Jim Houser & Isaac Lin
Main Gallery
—
Dale Dreiling
99 Bottle of Beer
Project Room


PREVIOUS EXHIBITS
2015 Exhibits
If you are interested in artwork from any of the artists listed below please contact the gallery.
2014 Exhibits
If you are interested in artwork from any of the artists listed below please contact the gallery.
December
Ravi Zupa, Ben Eine, Martin Whatson, Hari & Deepti, Beejoir, Allie Pohl & Dot Dot Dot
SCOPE Contemporary Art Show Miami Beach 2014
October
Amanda Gordon Dunn
California Girls
September
Hari & Deepti
Oh, The Places You Will Go!
August
Ravi Zupa
Just A Moment…
July
Mike Giant
Modern Hieroglyphics
June
Deathstar Blues
Group Exhibit
May
Bask
The One You Feed
May
Select Contemporary Art Fair NYC
Group Exhibit
March
Max Kauffman
Aether Ceremony
March
SCOPE New York Contemporary Art Show
Group Exhibit
Cey Adams, Morning Breath, Hari & Deepti, Ravi Zupa, El Gato Chimney, Max Kauffman, Martin Whatson, Reka, Shepard Fairey, Ben Eine, WK Interact, Judith Supine, Cope2, Indie184, BK, Jay West, Cycle
February
Gemma Danielle Bayly
You Are Going To Die and That Is OK

2013 Exhibits
If you are interested in artwork from any of the artists listed below please contact the gallery.
December
Ben Eine, Ravi Zupa, Jim Houser, Hari & Deepti and Max Kauffman
SCOPE Art Fair Miami Beach 2013
November
In The Wild
OCTOBER
Joseph Martinez, Jaime Molina & Pedro Barrios
Desconocidos Perfectos
SEPTEMBER
Tim Kerr, Lindsey Kuhn & Scott Stanton aka Panhandle Slim
Do You Hear What You See?
AUGUST
Titi Freak
In A Dream
JULY
Sandi Calistro
The World Forgetting, By The World Forgot
JUNE
Borf
The Made A Desert And Called It Peace
MAY
John Fellows
Every Here Has A There
APRIL
Bask, Miss Bugs, Shepard Fairey, Doze Green, Retna, Lucy Mclauchlan, Faile, Rich Jacobs, Niagara, Mr. Brainwash, Mel Kadel, Travis Millard, Alex Pardee, Rowdy, Cope2, Dean Zeus Colman, James Reka, ROA, Swoon, Judith Supine, Handiedan, Greg Lamarche, Mike Stilkey, Eelus, Dave Kinsey, Pure Evil, Jason Thielke, CEPT, Alex Lukas, Souther Salazar, The London Police, Titi Freak, Lisa Solberg, Blek Le Rat, Dabs & Myla, Indie 184, Pose, Luke Chueh, ESPO, Adam Wallacavage, Sam Flores, Hush and more!!!!!!
Knock It Out! Group Show

MARCH
Marla Rutherford, Joe Russo and Sara Ford
Unforeseen Coexistence
FEBRUARY
Rob Mack, Andrew Hoffman and Hari & Deepti
Happy Journey
2012 Exhibits
If you are interested in artwork from any of the artists listed below please contact the gallery.
FEBRUARY
Lindsay St. Antoine with Ravi Zupa
Nothing Teaches Needs
MARCH
Ian Millard
The Joy of Stenciling
APRIL
Michael Sieben, Mel Kadel, Travis Millard, Ariel Diaz & Mike Aho
Group Show(er)
MAY
Rene Gagnon
Between here and All Knowing
JUNE
Eelus
Curious
JULY
Shannon Bonatakis and Josh Holland
The Trouble Is, You Think You Have Time
AUGUST
Shepard Fairey, Evan Hecox and Jim Houser
FAIREY | HECOX | HOUSER
SEPTEMBER
Caleb Neelon & Raul Gonzalez
Mojados Y Polvosos
OCTOBER
Joseph Martinez and Pedro Barrios
Long Time Strangers
NOVEMBER
Ravi Zupa
One Million Things
DECEMBER
Mile High and Rising Vol.2
Group Show
2011 Exhibits
If you are interested in artwork from any of the artists listed below please contact the gallery.
JANUARY
Rene Gagnon
Urban Flowers
FEBRUARY
David Soukup
Reconstructed
MARCH
GALO, 2501 and Ottograph
666 Dollar Show
APRIL
Jeremy & Melanie Pruitt
Crawlspace
MAY
The London Police & Handiedan
Amsterdynasty
JUNE
John Fellows
Upon Some Distant Shore
JULY
Ernesto Yerena & Philip Lumbang
Dead Relatives
AUGUST
Ravi Zupa
FEELINGSUSPENDED
SEPTEMBER
ASVP
Down To Earth
OCTOBER
Skewville
Anti-Social Networking
NOVEMBER
Guerilla Garden
Blacklisted
DECEMBER
Mile High and Rising
Group Show
2010 Exhibits
If you are interested in artwork from any of the artists listed below please contact the gallery.
JUNE
Bask & Tes One
Good Intentions
Grand Opening featuring Bask & Tes One
JULY
Beers and Bottle Rockets Group Show
Featuring: Rene Gagnon, Joshua Budich, Justin Lavato, Mel Kadel, Travis Millard, Supakitch, Stephen Tompkins, John Fellows, Lindsey Kuhn, Ian Millard, Aaron White, Jonathan Lamb, Max Kauffman, Cherri Wood and Michael Ortiz
AUGUST
JOLT of GuerillaGarden
SEPTEMBER
Sandi Calistro
Le Carnavale Des Imbéciles
OCTOBER
Scot Lefavor, Rick Griffin and Travis Egedy
3
NOVMEBER
Jim Houser & Ben Woodward
Things That Make Whole
DECEMBER
Dale Grimshaw, Dan Baldwin and Jonathan Darby
True Brits