OCTOBER
Amanda Gordon Dunn
California Girls
Opening Reception
October 3rd 2014
6-10pm
Free & Open to the public
Artist in attendance
We are pleased to introduce you to the artwork of Amanda Gordon Dunn for our final gallery show of 2014. Amanda is a former Colorado resident currently living and working in Los Angeles. This will be her first solo show with Black Book Gallery.
California Girls is Amanda Gordon Dunn's latest series exploring futuristic California landscapes by melding a colorful and candy inspired palette. Dunn's experience with the metal fabrication industry and textiles is a major component and inspiration for the execution of the series. Each piece was created by layering, dipping, and fusing color onto metal. Which results in a balance of optical illusion and contemporary landscape painting.
—
About Amanda Gordon Dunn
Amanda Gordon Dunn lives and works in Los Angeles, California. Originally from Denver, Colorado, her work has been presented throughout the United States and Europe including institutions such as The Museum of Contemporary Art, Denver, a solo show at The Louisiana State Museum. Her work is housed in numerous private collections including The Collection of Lynda and Stewart Resnick and The Frederick R. Weisman Foundation in Los Angeles. Dunn completed her BFA in Textiles from The Maryland Institute College of Art in 2006 where she received several awards, including a presidential scholarship for her undergraduate work.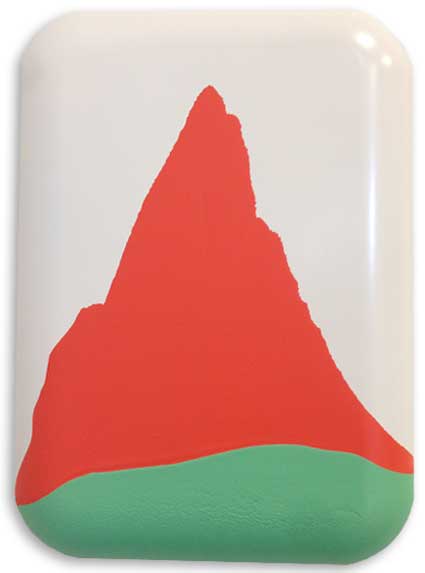 Amanda Gordon Dunn – Vermilion Mint
DECEMBER
SCOPE INTERNATIONAL CONTEMPORARY ART FAIR – MIAMI BEACH
Featuring works from Ravi Zupa, Hari & Deepti, Ben Eine, Martin Whatson, Allie Pohl, Beejoir & Dot Dot Dot
BOOTH F07
December 2nd – 7th
SCOPE Pavilion
910 Ocean Drive
Miami Beach, FL 33139
Tue | Dec 02 | VIP & MEDIA | 12:00PM – 8:00PM
Wed | Dec 03 | 11:00AM – 8:00PM
Thu | Dec 04 | 11:00AM – 8:00PM
Fri | Dec 05 | 11:00AM – 8:00PM
Sat | Dec 06 | 11:00AM – 8:00PM
Sun | Dec 07 | 11:00AM – 8:00PM
Free for VIP cardholders
Platinum First View | Tue | $150
General VIP & Press | Tue | $100
Public | Wed – Sun | $30
Student | Wed – Sun | $20
We are excited to return to Miami Beach for another edition of SCOPE. This year we have a great booth planned with a mixture of paintings and sculpture works. We are also excited to be a part of 'Juxtapoz Presents' – A special programming feature for SCOPE.
"Celebrating artwork that bends, blends and transcends genre, Juxtapoz Magazine will curate a selection of SCOPE galleries as a highlight of Feature Programming. Juxtapoz Presents galleries embody the New Contemporary that is SCOPE's hallmark and add a singular dynamism to the Miami Beach 2014 show."
CONTACT US FOR A PREVIEW OF AVAILABLE ARTWORK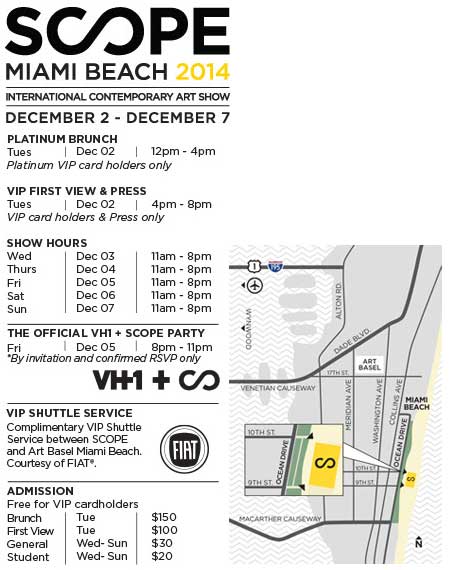 PREVIOUS EXHIBITS
2014 Exhibits
If you are interested in artwork from any of the artists listed below please contact the gallery.
August
Hari & Deepti
Oh, The Places You Will Go!
August
Ravi Zupa
Just A Moment…
July
Mike Giant
Modern Hieroglyphics
June
Deathstar Blues
Group Exhibit
May
Bask
The One You Feed
May
Select Contemporary Art Fair NYC
Group Exhibit
March
>Max Kauffman
Aether Ceremony
March
SCOPE New York Contemporary Art Show
Group Exhibit
Cey Adams, Morning Breath, Hari & Deepti, Ravi Zupa, El Gato Chimney, Max Kauffman, Martin Whatson, Reka, Shepard Fairey, Ben Eine, WK Interact, Judith Supine, Cope2, Indie184, BK, Jay West, Cycle
February
Gemma Danielle Bayly
You Are Going To Die and That Is OK

2013 Exhibits
If you are interested in artwork from any of the artists listed below please contact the gallery.
December
Ben Eine, Ravi Zupa, Jim Houser, Hari & Deepti and Max Kauffman
SCOPE Art Fair Miami Beach 2013
November
In The Wild
OCTOBER
Joseph Martinez, Jaime Molina & Pedro Barrios
Desconocidos Perfectos
SEPTEMBER
Tim Kerr, Lindsey Kuhn & Scott Stanton aka Panhandle Slim
Do You Hear What You See?
AUGUST
Titi Freak
In A Dream
JULY
Sandi Calistro
The World Forgetting, By The World Forgot
JUNE
Borf
The Made A Desert And Called It Peace
MAY
John Fellows
Every Here Has A There
APRIL
Bask, Miss Bugs, Shepard Fairey, Doze Green, Retna, Lucy Mclauchlan, Faile, Rich Jacobs, Niagara, Mr. Brainwash, Mel Kadel, Travis Millard, Alex Pardee, Rowdy, Cope2, Dean Zeus Colman, James Reka, ROA, Swoon, Judith Supine, Handiedan, Greg Lamarche, Mike Stilkey, Eelus, Dave Kinsey, Pure Evil, Jason Thielke, CEPT, Alex Lukas, Souther Salazar, The London Police, Titi Freak, Lisa Solberg, Blek Le Rat, Dabs & Myla, Indie 184, Pose, Luke Chueh, ESPO, Adam Wallacavage, Sam Flores, Hush and more!!!!!!
Knock It Out! Group Show

MARCH
Marla Rutherford, Joe Russo and Sara Ford
Unforeseen Coexistence
FEBRUARY
Rob Mack, Andrew Hoffman and Hari & Deepti
Happy Journey
2012 Exhibits
If you are interested in artwork from any of the artists listed below please contact the gallery.
FEBRUARY
Lindsay St. Antoine with Ravi Zupa
Nothing Teaches Needs
MARCH
Ian Millard
The Joy of Stenciling
APRIL
Michael Sieben, Mel Kadel, Travis Millard, Ariel Diaz & Mike Aho
Group Show(er)
MAY
Rene Gagnon
Between here and All Knowing
JUNE
Eelus
Curious
JULY
Shannon Bonatakis and Josh Holland
The Trouble Is, You Think You Have Time
AUGUST
Shepard Fairey, Evan Hecox and Jim Houser
FAIREY | HECOX | HOUSER
SEPTEMBER
Caleb Neelon & Raul Gonzalez
Mojados Y Polvosos
OCTOBER
Joseph Martinez and Pedro Barrios
Long Time Strangers
NOVEMBER
Ravi Zupa
One Million Things
DECEMBER
Mile High and Rising Vol.2
Group Show
2011 Exhibits
If you are interested in artwork from any of the artists listed below please contact the gallery.
JANUARY
Rene Gagnon
Urban Flowers
FEBRUARY
David Soukup
Reconstructed
MARCH
GALO, 2501 and Ottograph
666 Dollar Show
APRIL
Jeremy & Melanie Pruitt
Crawlspace
MAY
The London Police & Handiedan
Amsterdynasty
JUNE
John Fellows
Upon Some Distant Shore
JULY
Ernesto Yerena & Philip Lumbang
Dead Relatives
AUGUST
Ravi Zupa
FEELINGSUSPENDED
SEPTEMBER
ASVP
Down To Earth
OCTOBER
Skewville
Anti-Social Networking
NOVEMBER
Guerilla Garden
Blacklisted
DECEMBER
Mile High and Rising
Group Show
2010 Exhibits
If you are interested in artwork from any of the artists listed below please contact the gallery.
JUNE
Bask & Tes One
Good Intentions
Grand Opening featuring Bask & Tes One
JULY
Beers and Bottle Rockets Group Show
Featuring: Rene Gagnon, Joshua Budich, Justin Lavato, Mel Kadel, Travis Millard, Supakitch, Stephen Tompkins, John Fellows, Lindsey Kuhn, Ian Millard, Aaron White, Jonathan Lamb, Max Kauffman, Cherri Wood and Michael Ortiz
AUGUST
JOLT of GuerillaGarden
SEPTEMBER
Sandi Calistro
Le Carnavale Des Imbéciles
OCTOBER
Scot Lefavor, Rick Griffin and Travis Egedy
3
NOVMEBER
Jim Houser & Ben Woodward
Things That Make Whole
DECEMBER
Dale Grimshaw, Dan Baldwin and Jonathan Darby
True Brits