Please note: The gallery will not be open during regular hours until February 13th. All online orders will continue to ship promptly and viewings can be made by appointment, contact us with any questions.
FEBRUARY
Billy Kheel
Skyhigh
Opening Reception:
Saturday, February 13th 2016
6-10pm
Free & Open to the public
Artist in attendance
Exhibit runs until Saturday, March 12th
Contact us for a preview of available artwork
Billy Kheel is a Los Angeles based artist whose recent work in felt appliqué is best described as "Rick Ross meets Betsy Ross". Kheel first began working with felt by making large-scale felt appliqué pennants. Kheel pushed the material beyond sports memorabilia by
creating projects about Los Angeles strip mall culture and the Los Angeles River. "Skyhigh" represents Kheel's return to sports as subject matter, with a greater focus on pushing the medium into the realm of painting.
Each painting in "Skyhigh" has been hand cut and sewn by the artist. Colorfully dyed wool and recycled felt is used in the creation of each piece. Kheel uses felt as a painter uses paint: as color to suggest space and detail. The cut and sewn pieces give a unique surface dimensionality to each work. The pieces are designed to be appreciated from afar as well as close enough to see the intricate cutting and stitches.
From Billy Kheel:
The title "Skyhigh" has multiple meanings for me. This is my first time exhibiting art in Denver and the city itself really inspired me. Geographically the city floats high in the air atop the Rocky Mountains. Denver also has a rich and passionate sports culture which I wanted to reference and explore. And, lastly, the recent changes to the laws governing marijuana use in Colorado are completely new to me. All of these distinct ideas were swirling around in my mind as I cut and sewed the art for the show.
This is my first time showing these felt appliqué sports themed paintings. Aesthetically, I love the image of a human propelling themselves through the air. As a former college football and lacrosse player, I remember the slow motion sensation of floating through the air to be one of the most profound experiences in sports. I've also always been fascinated by the idea that many amazing, high-performing athletes were smoking marijuana while they were also dominating their competition. Athletes caught using weed have been subject to suspensions, and even criminal prosecution. I feel that highlighting some of these All Star and Champion stoners raises interesting questions about sports and culture and our shifting ideas on what constitutes healthy behavior.
About Billy Kheel
Using felt and thread, Billy Kheel builds soft sculptures and wall hangings. His approach plays with the concepts of masculine vs. feminine and folk vs. academic in relation to artistic process and intent. By using craft techniques to explore typically masculine subject matter, Kheel's work is influenced by the impact of shifting gender roles on culture. Regardless of the subject of a given series, a sense of humor and warmth runs throughout his work. This is Kheel's first exhibit with Black Book Gallery. Kheel has exhibited nationally and internationally and his work has been featured in Los Angeles Times, Los Angeles Magazine, KCRW's Design and Architecture and KCET's Artbound.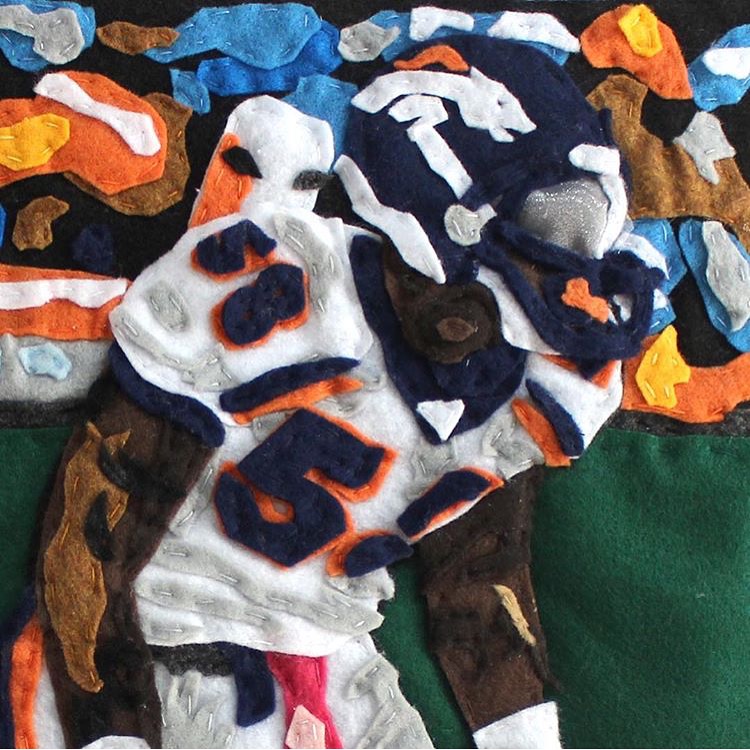 UPCOMING EXHIBITS
March 2016
Ravi Zupa – Main Gallery
David Cooley – Project Room
PREVIOUS EXHIBITS
2014 Exhibits
If you are interested in artwork from any of the artists listed below please contact the gallery.
December
Ravi Zupa, Ben Eine, Martin Whatson, Hari & Deepti, Beejoir, Allie Pohl & Dot Dot Dot
SCOPE Contemporary Art Show Miami Beach 2014
October
Amanda Gordon Dunn
California Girls
September
Hari & Deepti
Oh, The Places You Will Go!
August
Ravi Zupa
Just A Moment…
July
Mike Giant
Modern Hieroglyphics
June
Deathstar Blues
Group Exhibit
May
Bask
The One You Feed
May
Select Contemporary Art Fair NYC
Group Exhibit
March
Max Kauffman
Aether Ceremony
March
SCOPE New York Contemporary Art Show
Group Exhibit
Cey Adams, Morning Breath, Hari & Deepti, Ravi Zupa, El Gato Chimney, Max Kauffman, Martin Whatson, Reka, Shepard Fairey, Ben Eine, WK Interact, Judith Supine, Cope2, Indie184, BK, Jay West, Cycle
February
Gemma Danielle Bayly
You Are Going To Die and That Is OK

2013 Exhibits
If you are interested in artwork from any of the artists listed below please contact the gallery.
December
Ben Eine, Ravi Zupa, Jim Houser, Hari & Deepti and Max Kauffman
SCOPE Art Fair Miami Beach 2013
November
In The Wild
OCTOBER
Joseph Martinez, Jaime Molina & Pedro Barrios
Desconocidos Perfectos
SEPTEMBER
Tim Kerr, Lindsey Kuhn & Scott Stanton aka Panhandle Slim
Do You Hear What You See?
Hari & Deepti
Luminous Beings
AUGUST
Titi Freak
In A Dream
By Any Means Necessary – "Breaking Bad" Group show
Hari & Deepti, The Gropes, Emily J Moore, Joseph Martinez, Jaime Molina, Max Kauffman, Melanie Pruitt
JULY
Sandi Calistro
The World Forgetting, By The World Forgot
JUNE
Borf
The Made A Desert And Called It Peace
MAY
John Fellows
Every Here Has A There
APRIL
Bask, Miss Bugs, Shepard Fairey, Doze Green, Retna, Lucy Mclauchlan, Faile, Rich Jacobs, Niagara, Mr. Brainwash, Mel Kadel, Travis Millard, Alex Pardee, Rowdy, Cope2, Dean Zeus Colman, James Reka, ROA, Swoon, Judith Supine, Handiedan, Greg Lamarche, Mike Stilkey, Eelus, Dave Kinsey, Pure Evil, Jason Thielke, CEPT, Alex Lukas, Souther Salazar, The London Police, Titi Freak, Lisa Solberg, Blek Le Rat, Dabs & Myla, Indie 184, Pose, Luke Chueh, ESPO, Adam Wallacavage, Sam Flores, Hush and more!!!!!!
Knock It Out! Group Show

MARCH
Marla Rutherford, Joe Russo and Sara Ford
Unforeseen Coexistence
FEBRUARY
Rob Mack, Andrew Hoffman and Hari & Deepti
Happy Journey
2012 Exhibits
If you are interested in artwork from any of the artists listed below please contact the gallery.
FEBRUARY
Lindsay St. Antoine with Ravi Zupa
Nothing Teaches Needs
MARCH
Ian Millard
The Joy of Stenciling
APRIL
Michael Sieben, Mel Kadel, Travis Millard, Ariel Diaz & Mike Aho
Group Show(er)
MAY
Rene Gagnon
Between here and All Knowing
JUNE
Eelus
Curious
JULY
Shannon Bonatakis and Josh Holland
The Trouble Is, You Think You Have Time
AUGUST
Shepard Fairey, Evan Hecox and Jim Houser
FAIREY | HECOX | HOUSER
SEPTEMBER
Caleb Neelon & Raul Gonzalez
Mojados Y Polvosos
OCTOBER
Joseph Martinez and Pedro Barrios
Long Time Strangers
NOVEMBER
Ravi Zupa
One Million Things
DECEMBER
Mile High and Rising Vol.2
Group Show
2011 Exhibits
If you are interested in artwork from any of the artists listed below please contact the gallery.
JANUARY
Rene Gagnon
Urban Flowers
FEBRUARY
David Soukup
Reconstructed
MARCH
GALO, 2501 and Ottograph
666 Dollar Show
APRIL
Jeremy & Melanie Pruitt
Crawlspace
MAY
The London Police & Handiedan
Amsterdynasty
JUNE
John Fellows
Upon Some Distant Shore
JULY
Ernesto Yerena & Philip Lumbang
Dead Relatives
AUGUST
Ravi Zupa
FEELINGSUSPENDED
SEPTEMBER
ASVP
Down To Earth
OCTOBER
Skewville
Anti-Social Networking
NOVEMBER
Guerilla Garden
Blacklisted
DECEMBER
Mile High and Rising
Group Show
2010 Exhibits
If you are interested in artwork from any of the artists listed below please contact the gallery.
JUNE
Bask & Tes One
Good Intentions
Grand Opening featuring Bask & Tes One
JULY
Beers and Bottle Rockets Group Show
Featuring: Rene Gagnon, Joshua Budich, Justin Lavato, Mel Kadel, Travis Millard, Supakitch, Stephen Tompkins, John Fellows, Lindsey Kuhn, Ian Millard, Aaron White, Jonathan Lamb, Max Kauffman, Cherri Wood and Michael Ortiz
AUGUST
JOLT of GuerillaGarden
SEPTEMBER
Sandi Calistro
Le Carnavale Des Imbéciles
OCTOBER
Scot Lefavor, Rick Griffin and Travis Egedy
3
NOVMEBER
Jim Houser & Ben Woodward
Things That Make Whole
DECEMBER
Dale Grimshaw, Dan Baldwin and Jonathan Darby
True Brits