Oh, The Places You Will Go!
September 5th – 27th 2014
Hari and Deepti have created a whole new body of work featuring their beautiful hand cut backlit paper sculptures. Over the past year their travels near and far have been a great source of inspiration – "Oh, The Places You Will Go!" will take you into their unique and imaginative world driven by a love for nature and adventure.
"Our paper cut light boxes are intricate, hand cut sculptures and dioramas that focus on story telling. "Oh, The Places You Will Go!" is based on our recent travel experiences and inspiration that we have gathered along the way. All of us are explorers and warriors on a path of discovery – from India, New York, Thailand and Colorado, our trips have been filled with great experiences exploring the unknown. We are fortunate to live in Colorado amidst all the wilderness and amazing places to travel. This summer our trips included two of our favorite places: Moab, Utah and Yellowstone, Wyoming. The scale and beauty of these places is awe inspiring and we seem so small in comparison. Please join us at our gallery opening as we unveil the magical worlds we have created. The show will be set in the dark – no lights will be on in the gallery with exception of the light emanating from the artwork. Let each one draw you in like moths to a flame."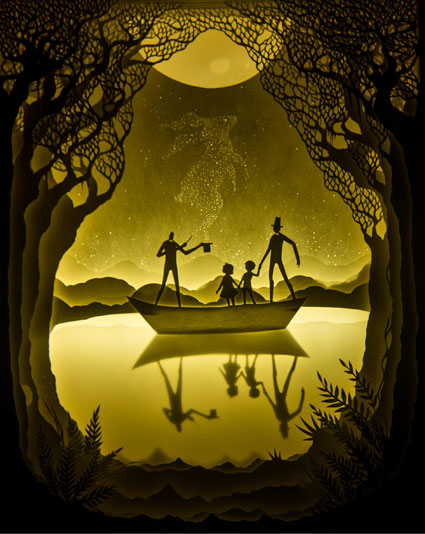 "The Magicians Hat" 16 x 20 Inches – Wall Mounted, Hand cut paper layered inside shadow box and illuminated by LED strip.
Hari and Deepti recently completed a commission for Neil Patrick Harris titled "The Magicians Hat " – This piece is inspired by the "Rabbit in the Moon" legend and features Neil with his family. Exposure through multiple very successful art fairs has led to many pieces being placed in first class art collections around the world. If you can't make the exhibit in Denver, Black Book Gallery will be exhibiting Hari & Deepti during Art Basel Miami 2014 with Scope International Contemporary Art Show.
—
About Hari & Deepti
Hari & Deepti are an artist couple currently based out of Denver, Colorado.
Hari Panicker is a trained graphic designer and illustrator. He was born and raised in Mumbai, India where he was the senior designer for MTV Networks India and has designed for brands like MTV India, VH1 India, Nickelodeon and Comedy Central. Apart from designing for these brands, he is also an established illustrator and has designed album covers for musicians like Dualist Inquiry and has been invited to design a cover for Rolling Stone India for their annual – Art as Cover Edition. He loves to collect and customize vinyl toys, is obsessed with drawing monsters, loves to screen print and secretly aspires to be in space some day. He fell in love with paper cutting art after seeing Balinese shadow puppets and has since been experimenting with paper and light.
Deepti Nair is a certified geek and is usually seen designing complex systems for a leading Telecom company as an Interaction Designer. "My day job helps me keep sane and makes me appreciate the time and opportunity I get to create art a lot more" says Deepti. She is a trained artist and prefers staying away from the computer to create or assist in her art. She believes that art has to be felt and experienced. She specializes in working with paper cuts, acrylic and loves sculpting with clay.
Hari & Deepti moved to Denver from India and carried with them a Pandora box full of stories and imagination that they bring to life through their intricate paper cut light boxes and paper clay sculptures. They have always been drawn towards the imaginative aspect of story telling. Stories have so many shades and depth in them, and paper as a medium has the exact qualities to reflect and interpret them. They believe that "Paper is brutal in its simplicity as a medium. It demands the attention of the artist while it provides the softness they need to mold it in to something beautiful. It is playful, light, colorless and colorful. It is minimal and intricate. It reflects light, creates depth and illusions in a way that it takes the artist through a journey with limitless possibilities."
They started experimenting with paper cut shadow boxes in 2010 with hand painted watercolor paper which was then cut and assembled in a wooden box to create a diorama, with years of practice their art became more intricate and minimal at the same time. They started experimenting with lights and simplified their pieces by losing the colored aspect of the paper. They have since then evolved to add their own style of paper cut art incorporating back-lit light boxes using flexible LED strip lights.
"What amazes us about the paper cut light boxes is the dichotomy of the piece in its lit and unlit state, the contrast is so stark that it has this mystical effect on the viewers."
They have been featured in many publications including Colossal, ArtFido, Bored Panda, Supersonic Art, Laughing Squid, My Modern Met Blog, Hi-Fructose, Juxtapoz and more.
Check out the post on Colossal for "Oh, The Places You Will Go!"
http://www.thisiscolossal.com/2014/09/new-backlit-paper-sculptures-by-hari-deepti/
Check out the post on Bored Panda about Hari & Deepti
http://www.boredpanda.com/illuminated-paper-sculptures-shadow-art-hari-deepti/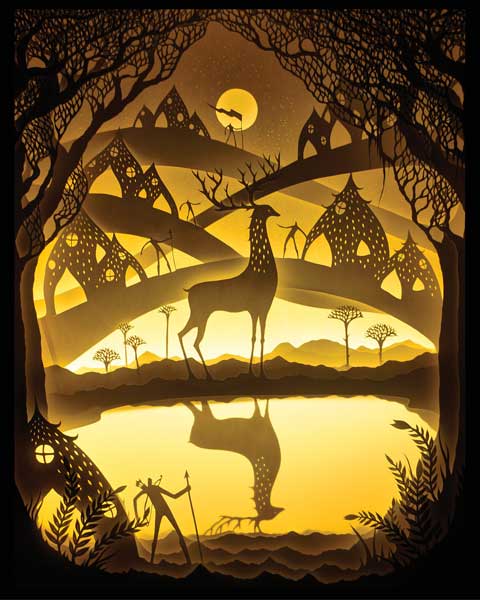 "There Is No Place Like…"
8 x 10 Inches – Fits standard frame
High quality print on gloss card stock
Open Edition – Not Signed or Numbered
$35 Shipped In US for all 3
Add to cart below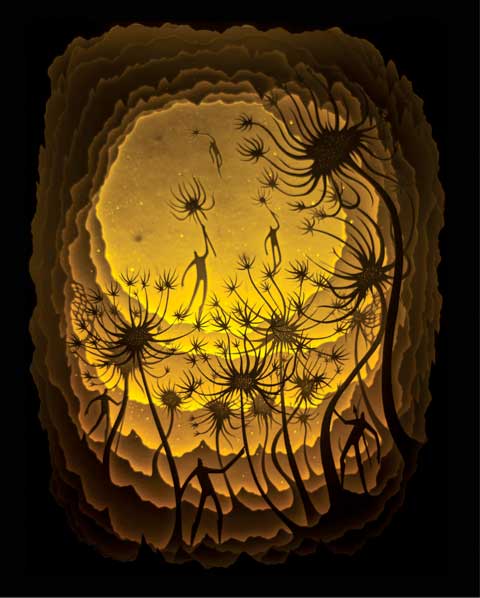 "Fields Of Gold"
8 x 10 Inches – Fits standard frame
High quality print on gloss card stock
Open Edition – Not Signed or Numbered
$35 Shipped In US for all 3
Add to cart below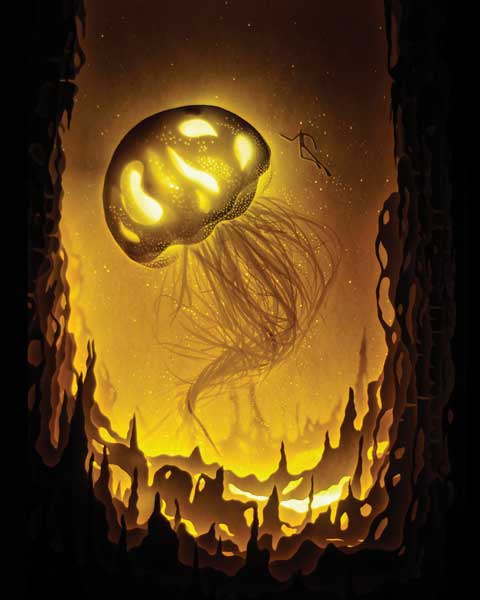 "A Drop In The Ocean"
8 x 10 Inches – Fits standard frame
High quality print on gloss card stock
Open Edition – Not Signed or Numbered
$35 Shipped In US for all 3
Add to cart below
SET OF 3 PRINTS US SHIPPING

EACH ORDER INCLUDES A FREE MYSTERY PRINT (4×6 Inches)

Pieces are framed in 2-4 inch deep white frames unless otherwise noted.
Additional photos available on request
Payment plans available
Commissions available
AVAILABLE ARTWORK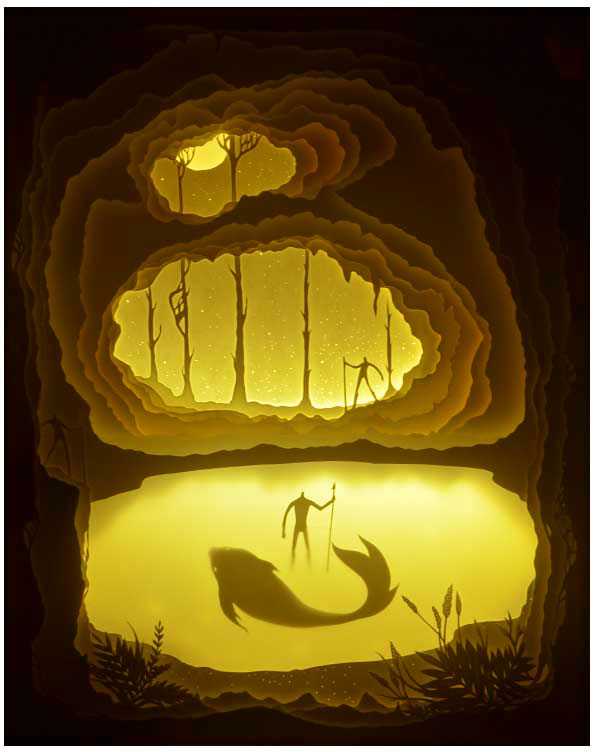 Tales Of The Mist
16 x 20 in – 40.5 x 51 cm
Hand cut paper inside a white light-box illuminated with LED. Piece hangs on wall and is powered with rechargeable battery pack.
2014
$2,750
Inquire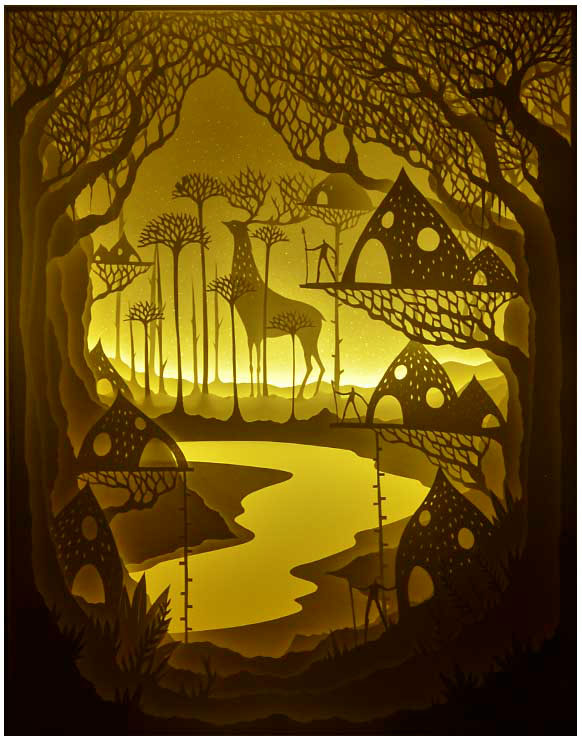 Free Spirit
11 x 14 in – 30 x 35 cm
Hand cut paper inside a white light-box illuminated with LED. Piece hangs on wall and is powered with rechargeable battery pack.
2014
$2,000 – SOLD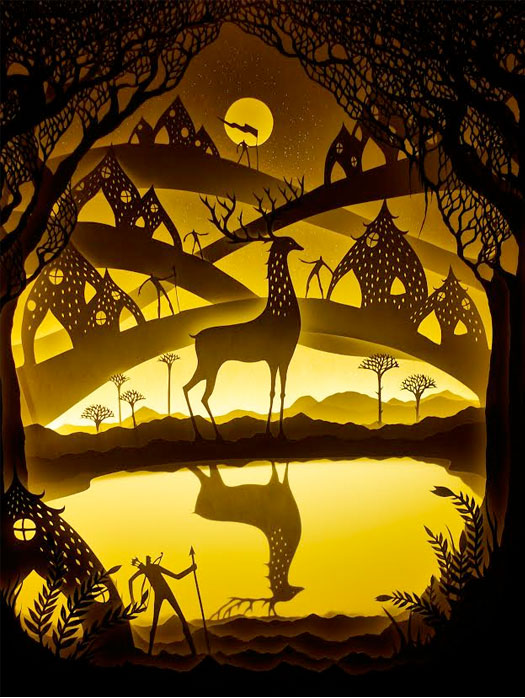 There Is No Place Like…
16 x 20 in – 40.5 x 51 cm
Hand cut paper inside a white light-box illuminated with LED. Piece hangs on wall and is powered with rechargeable battery pack.
2014
$2,500 – SOLD

A Drop In The Ocean
12 x 16 in – 30.5 x 30.5 cm
Hand cut paper inside a white light-box illuminated with LED. Piece sits on a shelf and is powered with a rechargeable battery pack or plugs into the wall.
2014
$2,000 – SOLD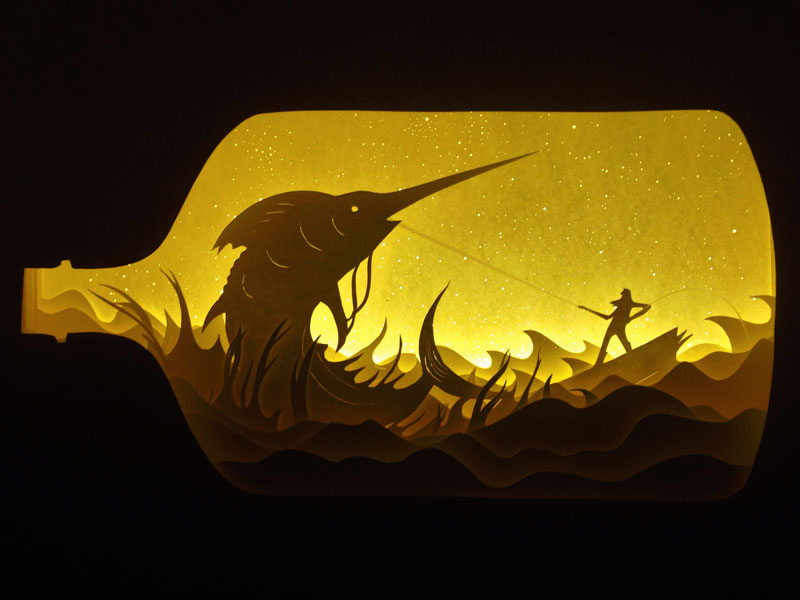 Old Man & The Sea
10 x 8 in – 25.5 x 20 cm
Hand cut paper inside a white light-box illuminated with LED. Piece sits on a shelf and is powered with a rechargeable battery pack or plugs into the wall.
2014
$1300
Inquire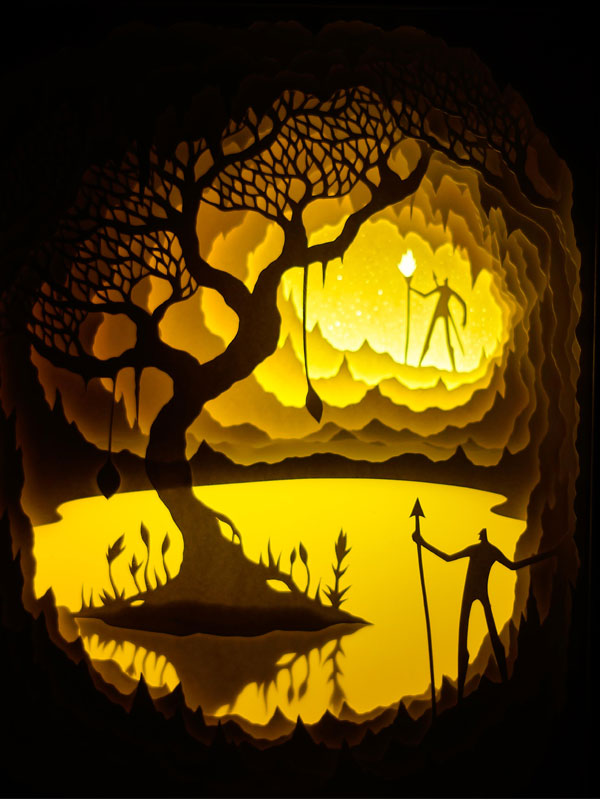 "The Old Banyan Tree"
Hand cut paper inside a light-box illuminated with LED. Piece sits on a shelf and is powered with a rechargeable battery pack or plugs into the wall.
8 x 10 Inches
2014
SOLD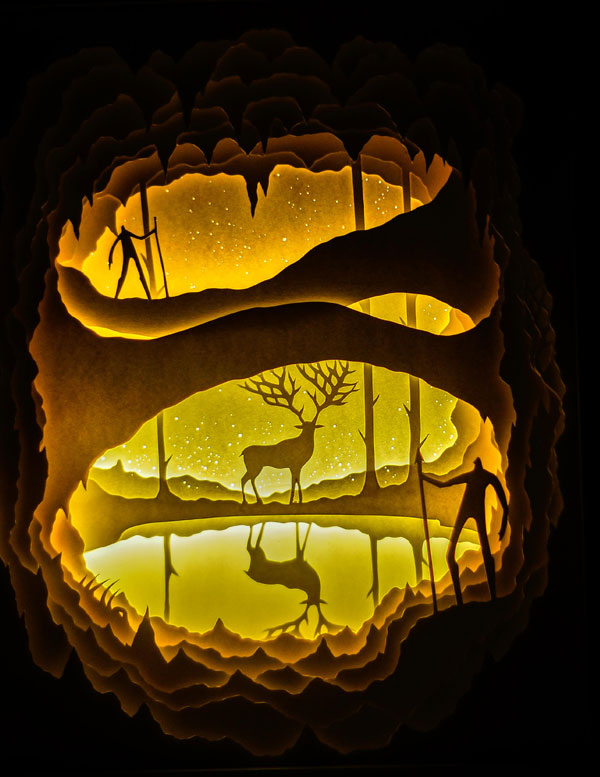 "Serenity"
Hand cut paper inside a light-box illuminated with LED. Piece sits on a shelf and is powered with a rechargeable battery pack or plugs into the wall.
8 x 10 Inches
2014
SOLD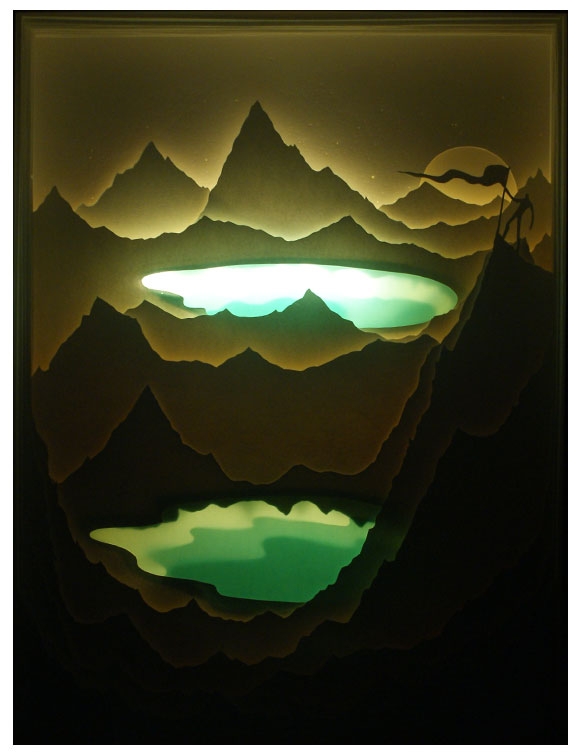 "Your Mountain Is Waiting"
Hand cut paper (w/blue mylar) inside a light-box illuminated with LED. Piece sits on a shelf and is powered with a rechargeable battery pack or plugs into the wall.
12 x 16 Inches
2014
$1400.00
Inquire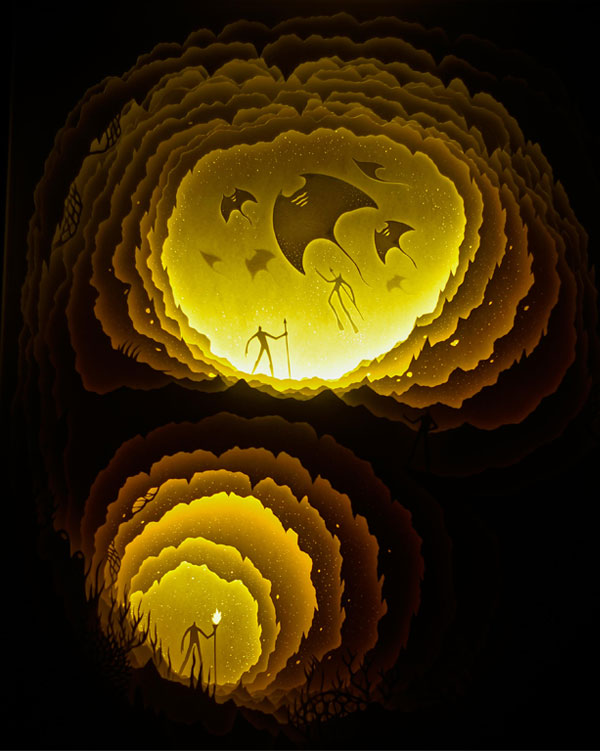 "The World Beneath"
Hand cut paper inside a light-box illuminated with LED. Piece hangs on wall or sits on a shelf and is powered with a rechargeable battery pack or plugs into the wall.
16 x 20 Inches
2014
SOLD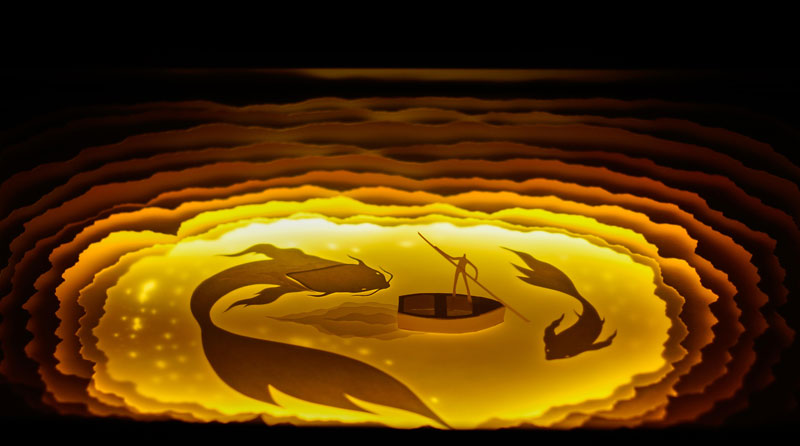 "This Is Where I Belong"
Hand cut paper inside a light-box illuminated with LED. Piece sits flat on your coffee table or similar space and is powered with a rechargeable battery pack or plugs into the wall.
16 x 20 Inches
2014
SOLD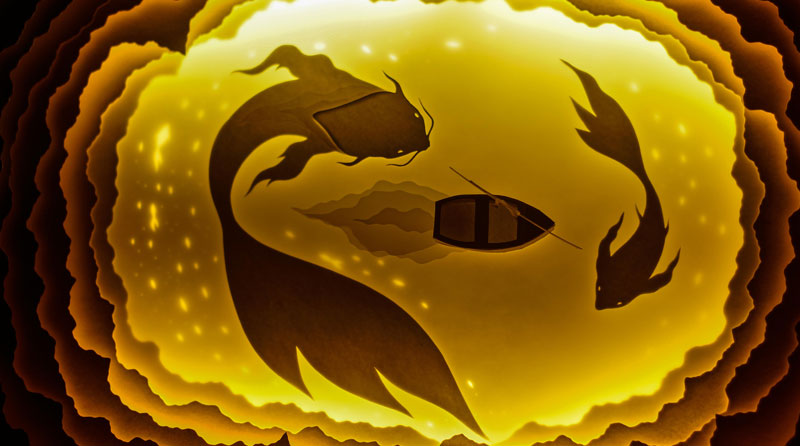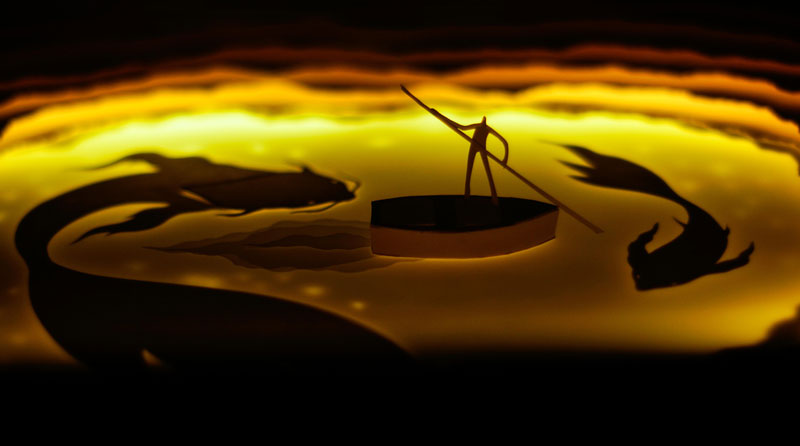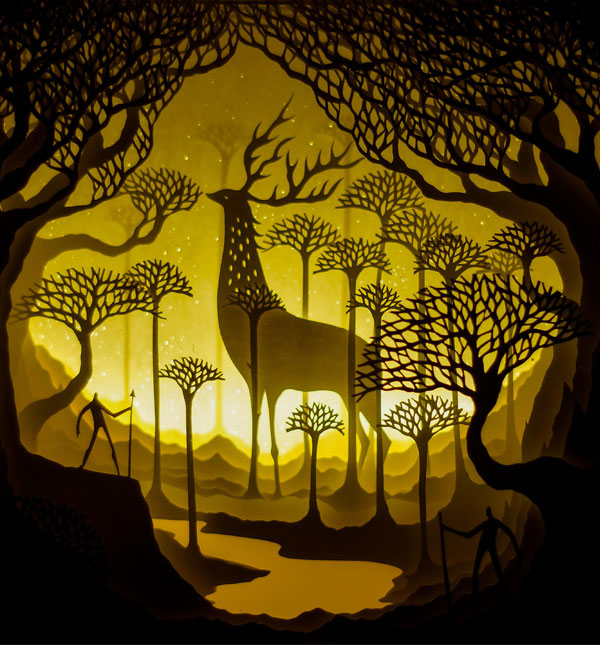 "By The River"
Hand cut paper inside a light-box illuminated with LED. Piece sits on a shelf and is powered with a rechargeable battery pack or plugs into the wall.
10 x 10 x 5 Inches – Black Frame
2014
SOLD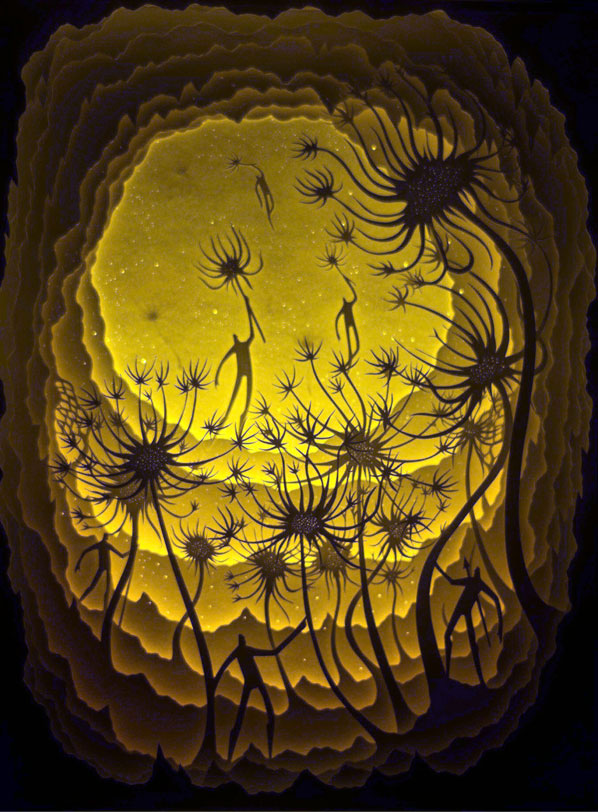 "Fields of Gold"
Hand cut paper inside a light-box illuminated with LED. Piece sits on a shelf and is powered with a rechargeable battery pack or plugs into the wall.
9 x 13 Inches
2014
SOLD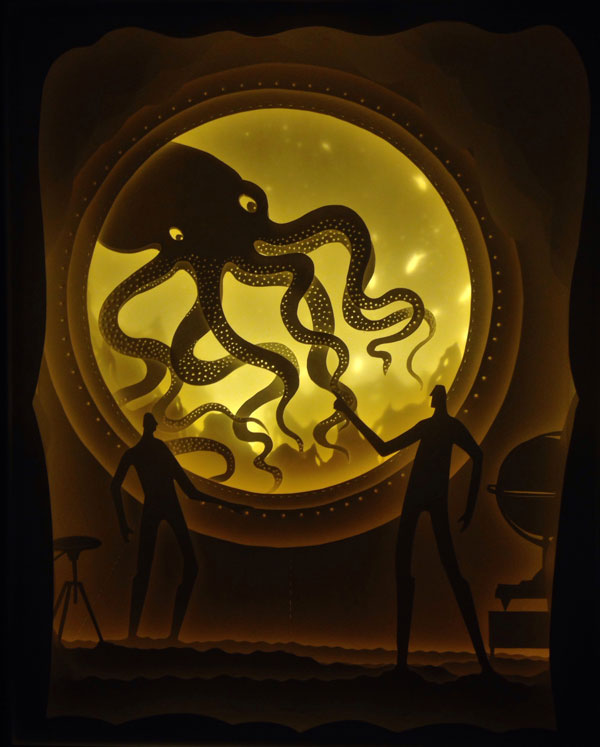 "20,000 Leagues Under The Sea"
Hand cut paper inside a light-box illuminated with LED. Piece sits on a shelf and is powered with a rechargeable battery pack or plugs into the wall.
8 x 10 Inches
2014
SOLD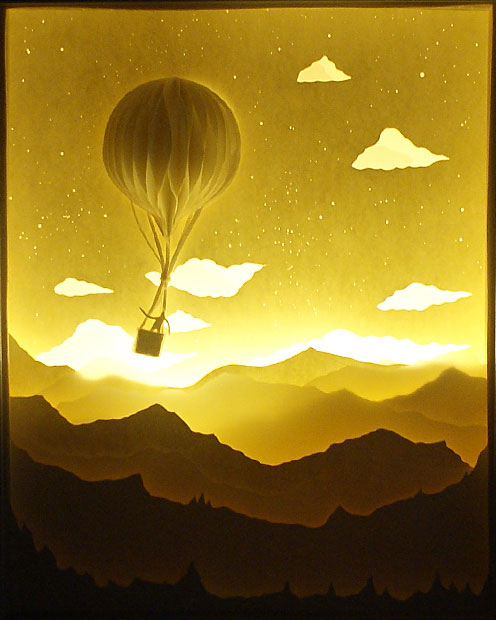 "Oh, The Places You Will Go!"
Hand cut paper inside a light-box illuminated with LED. Piece sits on a shelf and is powered with a rechargeable battery pack or plugs into the wall.
8 x 10 Inches
2014
SOLD

"Where The Giants Roam"
Hand cut paper inside a light-box illuminated with LED. Piece sits on a shelf and is powered with a rechargeable battery pack or plugs into the wall.
11 x 14 Inches
2014
SOLD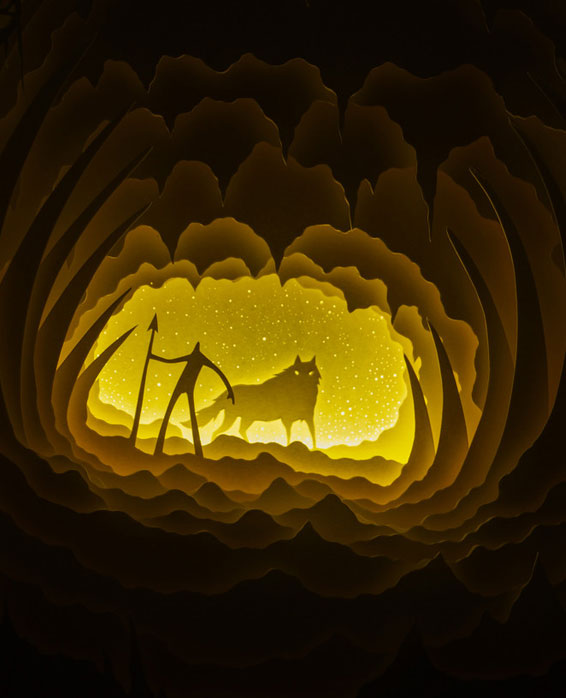 "Where The Giants Rest"
Hand cut paper inside a light-box illuminated with LED. Piece sits on a shelf and is powered with a rechargeable battery pack or plugs into the wall.
8 x 10 Inches
2014
SOLD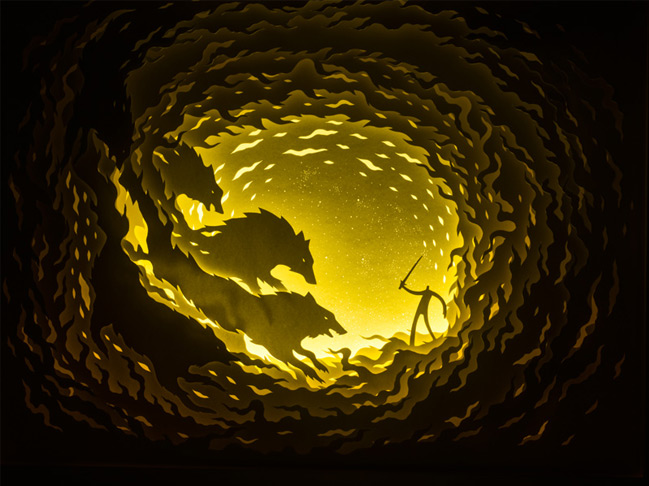 "Firewolves"
Hand cut paper inside a light-box illuminated with LED. Piece sits on a shelf and is powered with a rechargeable battery pack or plugs into the wall.
11 x 14 Inches
2014
SOLD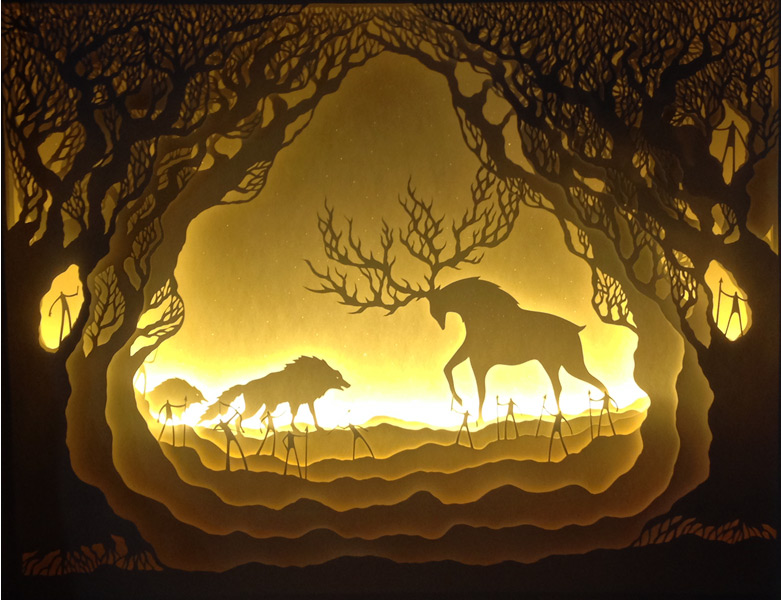 "When The Dust Settles"
Hand cut paper inside a light-box illuminated with LED. Piece hangs on wall and is powered with rechargeable battery pack.
24 x 30 Inches
2013
$3000.00
Contact gallery for availability
Inquire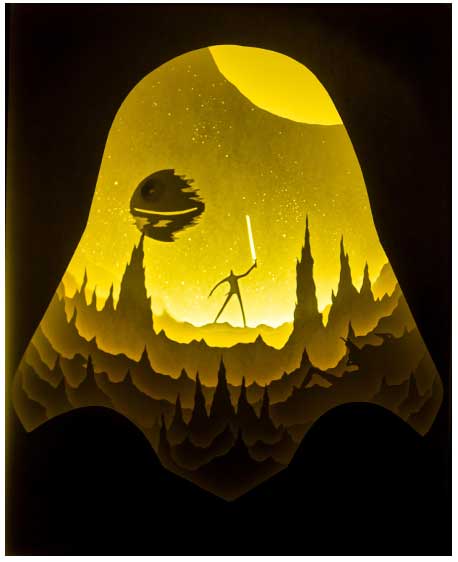 "Starkiller"
Hand cut paper inside a light-box illuminated with LED. Piece sits on a shelf and is powered with a rechargeable battery pack or plugs into the wall.
8 x 10 Inches
2014
SOLD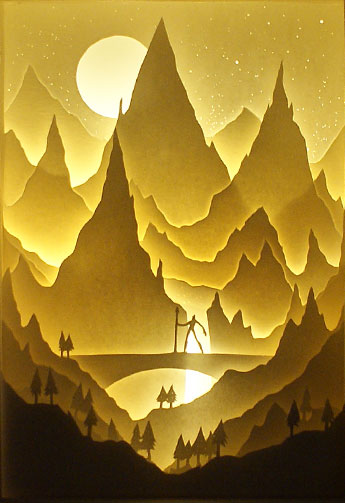 "Home Is Behind"
Hand cut paper inside a light-box illuminated with LED. Piece sits on a shelf and is powered with a rechargeable battery pack or plugs into the wall.
5 x 7 Inches
2014
SOLD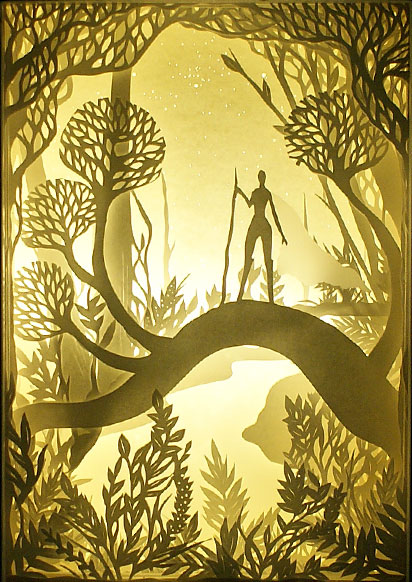 "Amazon"
Hand cut paper inside a light-box illuminated with LED. Piece sits on a shelf and is powered with a rechargeable battery pack or plugs into the wall.
5 x 7 Inches
2014
SOLD

Sold Artwork