Aether Ceremony
March 2014
Aether is an old term, extinct in our time. It's origin comes from the Greeks – to them it was pure air – the essence that gods breathed and existed in. Later It was considered the fifth element, a way to explain the unexplainable before true science came into play. Einstein even mentioned the term as a precursor to his theories, as a way of explaining the properties of the empty space between objects. Kauffman interprets this in his work as a connector between all things and eras. Our similarities always outweigh minute differences in our day to day lives. Working between loose painterly passages paired with tight purposeful lines Kauffman evokes the segue between waking and dreaming by connecting the two. The work is at once conscious and unconscious: the hustle of urban life and deep woods hermiting, the realms of real and magic, bleeding in and out of each other, both at the same time but also as neither.
This new body of work explores Max Kauffman's continuing themes of making the most of what you have. Living everyday through magic, sacred and powerful experiences… home vs house, the personal sanctuary in our minds and awe of the natural world. Where we hide our best moments and our darkest secrets – the temples of our mind. Or the thought of finding internal peace from your surroundings, a place to hide from the chaos of our day to day lives. Working with a loose narrative approach, there is no forced story, rather a subdued and familiar framework to let others fill in their own struggles and victories.
Building this show in the back of Black Book Gallery played into these themes. This exhibit marks Max's return to his old home of Denver – a sanctuary of peace and familiarity away from Oakland, CA – his new hometown. The freedom and space to work allowed Max to stretch his ideas out and work efficiently. With this came more room for exploration which developed into a new series of sculptural pieces that are a nod to Kauffman's love of anthropology and indigenous cultures, as well as a few experimental canvas pieces that materialized over time.
For those familiar with Max's work there is no doubt this is his strongest and most cohesive exhibit to date. If you are just learning about Max and his artwork, we strongly encourage you to take some time to get lost in his paintings and sculptures – Join us for the opening reception on Saturday, March 15th 2014 from 6-10pm. Exhibit is free and open to the public – Artist in attendance.
If you live in the New York area Max will be a part of the Black Book Gallery group show taking place from March 6th-9th at Scope International Contemporary Art Fair. Stop by and say hello to Max and catch a sneak preview of his new works. Please visit scope-art.com or our website for more information.
—
About Max Kauffman
b. 1981
I grew up in South Bend, Indiana. Born in Chicago, I returned there often for skateboarding in my teens and concerts after that. In Indiana, a giant portion of my early life was outdoors – wandering swamps, flipping over logs, exploring the (to me) forest primeval in my backyard. This duality shaped me and the work I do. Needing something larger after high school, I attended ASU for ceramics and anthropology. The latter has been one of my largest influences to date. I've been fortunate enough to show my work across the US for the past seven years. I've also shown bits of things in Italy, Israel, and Canada (first out of the country solo there last year). Featured in Juxtapoz, Lost at E Minor, Beautiful Decay, and Wallfarmers. I've been lucky enough to work with people like Mountain Dew, Nike, and Arbor on projects, and have written for Hi Fructose on and off since 2008.
Currently residing in Oakland, CA.
Bachelor of Fine Arts: Ceramics, and a minor in Anthropology.
Arizona State University 2004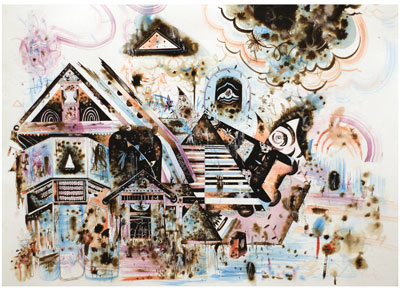 Max Kauffman "Fruitvale Dreams"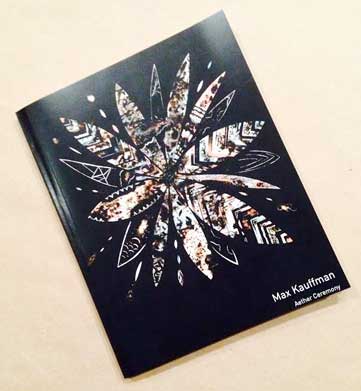 AETHER CEREMONY CATALOG
8.5″ x 5.5″
Full color, 40 page booklet featuring the artwork from "Aether Ceremony"
Edition of 40
Signed & Numbered – Sketch on inside, stamp on back.
$15.00


Paper pieces are framed in archival white frames – Found objects are framed in shadow boxes
Additional images available
Payment plans available
Contact gallery with any questions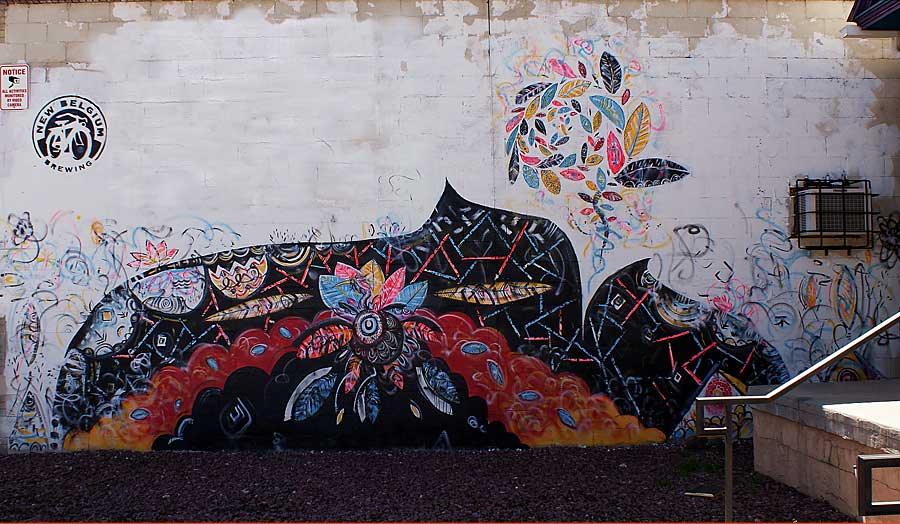 MAX KAUFFMAN X NEW BELGIUM BREWERY