Max Kauffman & Brian Robertson
Meta Structures
April 11th – May 2nd
"Meta Structures" – A two man exhibit from artists Max Kauffman and Brian Robertson uses the term as a way to define works loosely based in reality, but taking on a sense of "extra/other" reality. Both artists employ elements of abstraction and use personal experience with emotion to describe their work; Max stating a sense of balance found in his personal life informing his recent work and Brian mentioning a "mood de jour" guiding his hand when constructing compositions. Together the works address objects or architecture of an unknown origin and with an unknown purpose, brought to life for the viewer to attempt to assign the final verdict of classification.
Brian Robertson Artwork
From Max Kauffman
My recent work has been delving into architecture – how house vs home affects us; how comfort, inherent from inanimate objects/places we inhabit, shapes us. How energy transfers in the cycle that is life, there's always been a balance between hard realized things and unconscious flow/movement. I've often danced around that line, but been very aware of it, tweaking different balances of it but aiming for control in the moment…focusing on details instead of the big picture.    
In proper meta fashion, the title of this show Meta Structures applies on several levels. I've recently found more balance in my personal life, and feel I've been able to convey that better in the work – instead of striving, I let it guide me; instead of specific goals, I let the tide draw me to where it may. 
There is a new clarity in the act of painting. The unconscious side of painting has taken on great appeal lately, where I go deeper into the intuitive places that drew me to this kind of work to begin with. I hesitate to say abstraction because there are still clear symbols/patterns/shapes that emerge – but its a return to an older language I've steadily moved beyond in the last 5 years.
The symbols take on new meaning when building up structures, adorning their walls, or finding their way further into the nooks and crannies of familiar figures. Returning to balance, it is achieved in a fresh way – comprised of older language and ideas, but with new approaches weaving in and out of a nebulous field of memory.  Some things break down as others crystalize into more complex structures. 
Our own memory changes/disintegrates/builds up over time, and so the more recent work becomes intertwined with the two sides it represents – the meta structures of our own minds seem closer than they've ever been.
About Max Kauffman
United States – b. 1981
I grew up in South Bend, Indiana. Born in Chicago, I returned there often for skateboarding in my teens and concerts after that. In Indiana, a giant portion of my early life was outdoors – wandering swamps, flipping over logs, exploring the (to me) forest primeval in my backyard. This duality shaped me and the work I do. Needing something larger after high school, I attended ASU for ceramics and anthropology. The latter has been one of my largest influences to date. I've been fortunate enough to show my work across the US for the past seven years. I've also shown bits of things in Italy, Israel, and Canada (first out of the country solo there last year). Featured in Juxtapoz, Lost at E Minor, Beautiful Decay, and Wallfarmers. I've been lucky enough to work with people like Mountain Dew, Nike, and Arbor on projects, and have written for Hi Fructose on and off since 2008.
Arizona State University 2004 – Bachelor of Fine Arts: Ceramics with a minor in Anthropology
Max currently lives and works in Oakland, CA.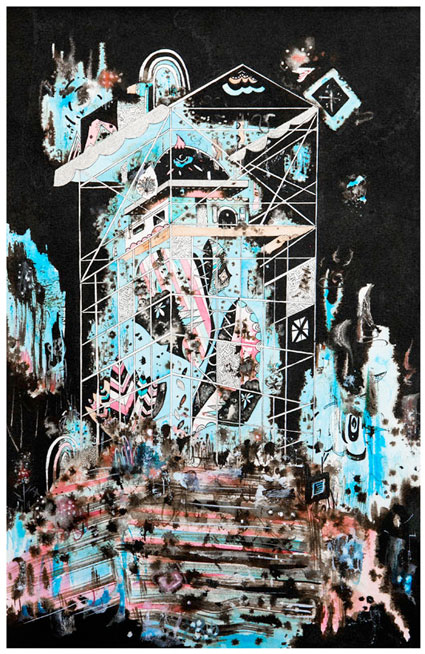 Tracing Heritage
no images were found
Artwork is framed
Payment plans available
Contact us for detailed pictures